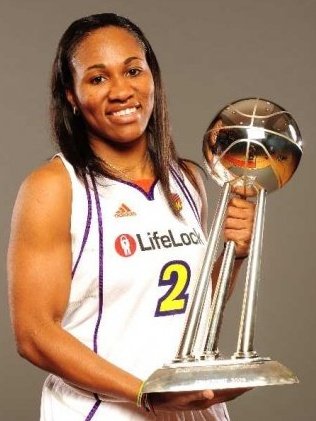 Temeka Johnson, a native of Kenner, Louisiana became one of the top point guards in Louisiana State University basketball history where she became LSU's all-time leader in assist during her 2001-2005 tenure. Standing just 5 feet 3 inches tall her heart defied the odds despite her height, in 2004 she was awarded The Nancy Lieberman Award, nation's top collegiate point guard in women's Division I basketball.
In 2005, Temeka was drafted 6th Overall in the 1st round of the WNBA draft to the Washington Mystics. The Alfred T. Bonnabel Magnet Academy High School graduate would eventually go on to be named the 2005 WNBA Rookie of the Year with a league best 177 total assists.
Temeka's desire to give back was unmatched, still to this day. As a member of the Phoenix Mercury, Temeka was awarded the leagues: WNBA Community Assist Award which is presented to a player who best reflects the league's passion for making a difference in the community. This accolade was sparked by The H.O.P.E. Foundation which was founded by Temeka Johnson. Not only was Temeka a peoples champ, but also in 2009 she became a WNBA World Champion with the Phoenix Mercury. Temeka started and played all 34 games for the Mercury, scoring a runner up to her career season best of 328 points, 157 assists, 29 steals and 120 total rebounds.
In 2014, while playing for the WNBA's Seattle Storm. Temeka Johnson posted 13 points, 11 assists and 10 rebounds for the first triple-double in Seattle Storm team history, 5th player in WNBA league history and became the shortest WNBA player to obtain the accomplishment. In 2015, while playing with the Los Angeles Sparks, Johnson scored her 2500th career point and recorded her 300th career steal.
Time and time again, Temeka Johnson has defied the odds and ignored all obstacles and applied sheer drive and determination to achieve goals in both basketball and life. In 2018, Temeka is committed and devoted towards giving HOPE to the next generation towards making their dreams a reality.